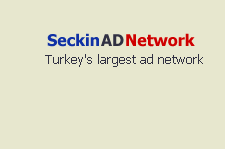 Whether you're a smaller site looking to outsource all of your ad sales, a brand new site with no sales force, or a larger site with some available space, become a member of Seckin AD Network to have consistent revenue on all of your ad space.

In order to get accepted to our network :
your site´s visitors must be primarily from Turkey
your site must be professionally designed
your site must not contain links to adult content, MP3 or hate sites.
If you're ready to find out how SECKIN AD NETWORK can help you, click to fill out the application form.