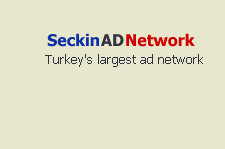 When you need to advertise on Turkish web sites to reach Turkish people living in Turkey and abroad, the best choise is Seckin Internet Solutions. Because,
we run an AD NETWORK with unique inventory of specialty content Turkish web sites and email publishers.
we provide a centralized ad management service for both online publishers and ad agencies,
If you're ready to find out how your campaigns will perform on the SECKIN AD NETWORK, click to fill out a contact request form.